Chains in Jewelry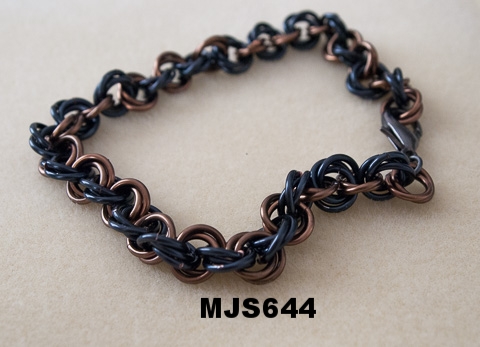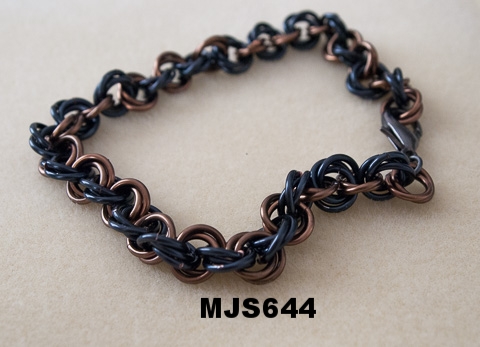 sale
Chains in Jewelry
Each of these designs are hand made with jump rings in intricate chain maille patterns.
MJS221-Double Infinity Necklace with sterling silver chain, Swarovsky crystals and a hand cast silver mermaid pendant.
MJS219-Orbital, Rose Gold and Silver Wire Bracelet, Silver Clasp
MJS194-Byzantine, Gold and Red Wrapped Wire Bracelet
MJS193-Silver Wire LInks, large size bracelet
MJS196-Bicycle Chain Earrings, Czech Glass beads, silver
MJS312-Rope Bracelet in silver, large size
MJS315-Celtic Star Pendant, Silcer & Jade Greeen Wire
MJS316-Box Design, silver and Turquoise Clasp
MJS335-Gold Filled,Jens Pind Design Bracelet
MJS464-Pinwheel Bracelet, silver and Forest Green Wire
MJS483-Rope Design Silver Bracelet, Lapis & Silver Clasp
MJS549-Crystal Woven Bead Design with Hand Crafted Copper Clasp
MJS219-Orbital Pattern in Silver and Rose Gold Enameled Wire, bracelet of 7 1/2", with a silver lobster clasp.
MJS194-Byzantine Pattern in 14k Gold Filled Wire and Red Enameled Wire, bracelet 7 3/4" long, 5mm wide, with a gold filled lobster clasp.
MJS193-Silver Round Maille Bracelet for Men, length 9", 8mm wide with a silver lobster clasp.
MJS196- Bicycle Chain Pattern Earrings with Czech Glass Donut Beads and Silver or Copper Wire. Length of each pair is 2", with silver ear wires.
MJS312-Silver Rope Chain Bracelet, 10", Argentium silver (resists tarnish)
MJS315-Celtic Star Pendant, silver and jade wire, 1 3/8" x 1" wide.
MJS316-Box Chain Bracelet, Silver wire with a turquoise and silver clasp, 7 1/2".
MJS335-Jens Pind Gold Filled Bracelet, gold filled clasp, 8 1/2" x 5mm.
MJS464-Swirls Bracelet, Silver filled and emerald green wire, 8 1/4" long.
MJS549-Crystal Bead Woven Bracelet, hand made copper clasp,8" long.
MJS634-Turtle Back Bracelet, copper & crystal beads, 7" long.
MJS635-Turkish Round Maille, Silver, Copper & "Turquoise" Wire, 7 3/4" long.
MJS644-Wiggly Steel Bracelet, 12", Black & Copper
MJS653-Euro 4 in 1 Bracelet, 7 1/2", silver and enamel wire, silver clasp.